This fresh breakfast bowl has a base of spiced riced veggies, and a delicious herbed yogurt sauce ties it all together. Sub in whatever herbs & veggies you got in your farmers market haul!
Serves: 2 large servings
Ingredients
Spiced "Riced" Carrots:
2 medium carrots
2 teaspoons lemon juice
1 teaspoon extra-virgin olive oil
¼ teaspoon cumin
¼ teaspoon coriander
sea salt and freshly ground black pepper
Yogurt Green Goddess Sauce: (makes extra)
2 cups whole milk greek yogurt
2 tablespoons lemon juice
2 tablespoons extra-virgin olive oil
2 garlic cloves
½ teaspoon sea salt
⅓ cup chives, reserve some for garnish
⅓ cup fresh basil
¼ cup fresh mint
freshly ground black pepper
for the bowls:
handful of salad greens
1 medium beet, shredded or very finely diced
4 radishes, thinly sliced
2 small tomatoes, sliced into wedges
2 soft boiled eggs*
extra-virgin olive oil, for drizzling
sea salt and freshly ground black pepper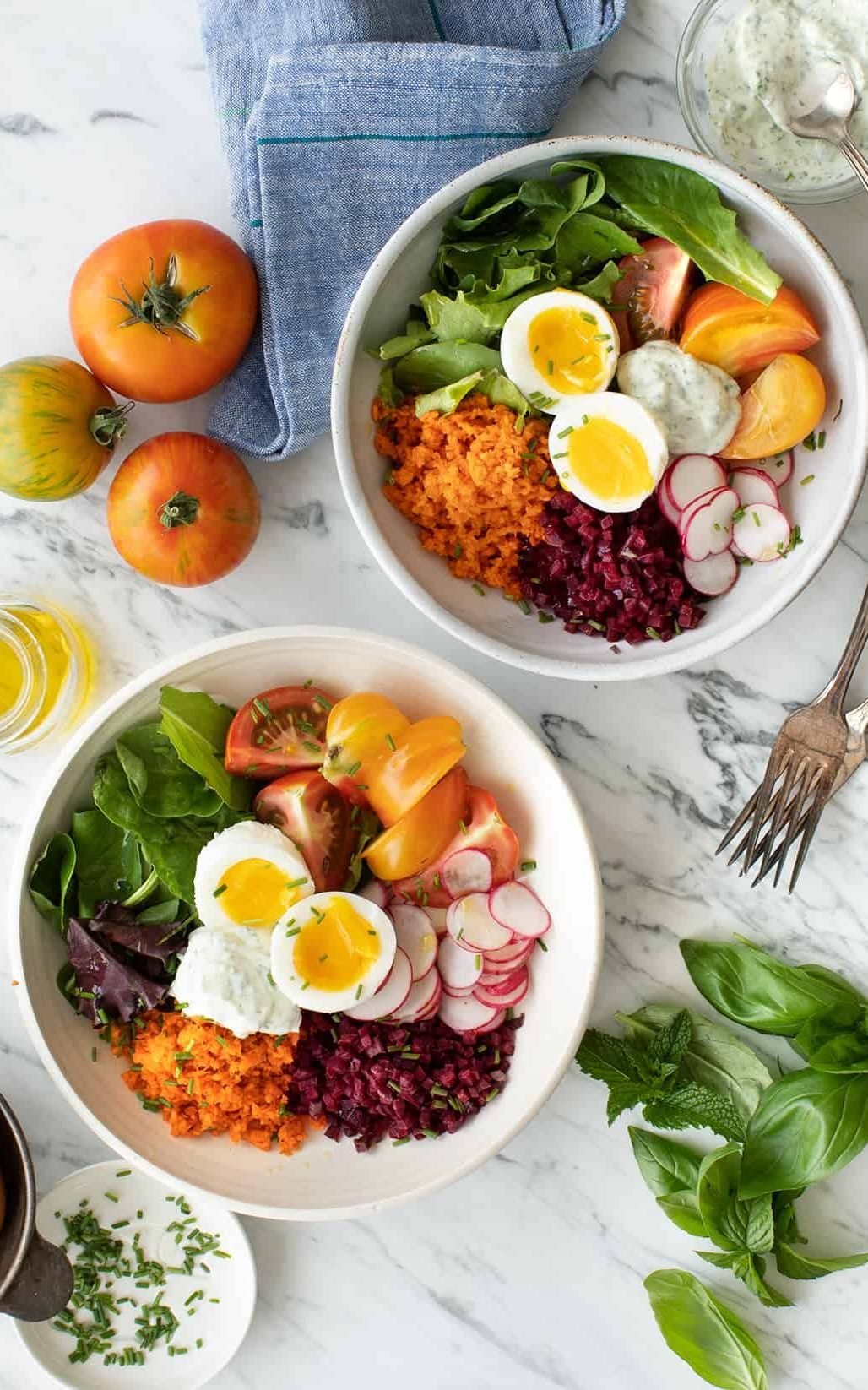 Instructions
Make the spiced carrot salad: Grate the carrots (easiest using the grating plate in a food processor). Transfer the carrots to a small bowl and toss with the lemon juice, olive oil, cumin, coriander, and pinches of salt and pepper. Set aside and wipe out your food processor.
Make the yogurt green goddess sauce: In the KitchenAid® 7 Cup Food Processor, puree the yogurt, lemon juice, olive oil, garlic, and salt until combined. Add the chives, basil, and mint and pulse until just combined.
Assemble the bowls with the salad greens, carrots, shredded beet, radishes, tomatoes, and soft-boiled eggs. Drizzle the bowls with olive oil and season with salt and pepper. Serve with dollops of the yogurt sauce.
Chill remaining yogurt sauce for 3 to 4 days. It's great for dipping vegetables, spreading on sandwiches, or dolloping onto salads.
Notes
*To make soft-boiled eggs: Fill a medium pot with water and heat to a gentle simmer, just below boiling. Using a slotted spoon, carefully lower the eggs into the water and let simmer for 7 minutes. Remove and chill immediately in a bowl of ice water for about 3 minutes. Once the eggs are cool, tap the bottom of each egg to crack a little bit of the shell. Take a small spoon and carefully slide it in and around the egg to loosen and remove it from the shell. Set the peeled eggs aside.
Recipe by Love and Lemons