These no bake energy bites are the BEST healthy snack! They're naturally sweetened, vegan, gluten-free, and totally delicious.
Prep time
10 mins
Total time
10 mins
Ingredients
1 cup whole rolled oats (not instant)
1 tablespoon ground flaxseed + 3 tablespoons warm water
¼ cup roasted almond butter
2 tablespoons maple syrup
3 soft Medjool dates, pitted (or 2 additional tablespoons of maple syrup)
2 tablespoons coconut oil
½ teaspoon vanilla extract
¼ teaspoon cinnamon
¼ teaspoon sea salt
¼ cup chopped walnuts
½ cup shredded coconut
⅓ cup dark chocolate chips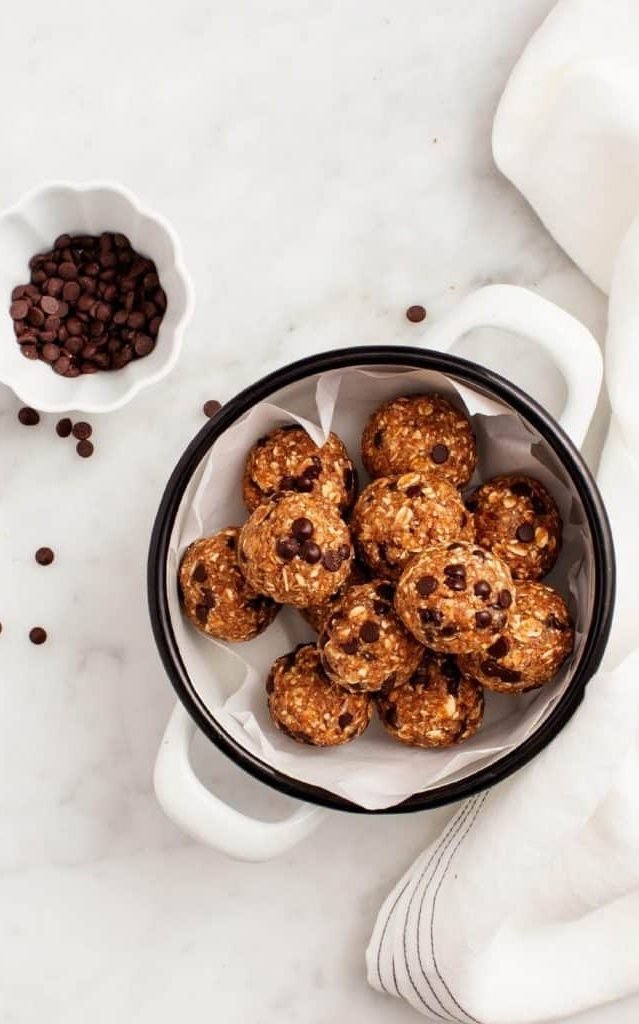 Instructions
In a medium pan, toast the oats over low heat until just browned around the edges, about 1 to 2 minutes. Remove from the heat and set aside.
In a small bowl, combine the flaxseed and warm water and set aside to thicken for about 5 minutes. In a food processor, combine the almond butter, maple syrup, dates, coconut oil, vanilla, cinnamon and salt. Add the flaxseed mixture and blend until smooth.
Add the walnuts and pulse until combined. Add the oats and coconut and pulse until combined. Add the chocolate chips and pulse just until evenly incorporated.
Roll the mixture into 12 balls and chill until firm, at least 30 minutes. If the dough is too sticky to work with, chill it for several minutes before rolling.
Store in an air-tight container in the refrigerator.
Notes:
I used these vegan mini chocolate chips. A chopped dark chocolate bar also works great here.
If you're gluten free be sure to use certified gluten free oats.
Recipe by Love and Lemons