We offer fitness for every level!
When you walk in the door, we want you to feel good about yourself, no matter your size, no matter what you can do. You walk in our center, you are moving, you're going to feel good.
The simple idea of exercising may be intimidating, and for that reason we work so hard to create an inviting atmosphere that everybody loves. To overcome fears or uncertainties we make sure to always deliver a welcoming and encouraging experience. We make it fun, friendly, and not competitive, but still pushing everyone to give their best and improve.
We show all the modifications so that our members can do it their own way, at their own pace, according to their body, always learning more about everyone to bring individual solutions.
With that mindset we can build trust because we are honestly there to help and not to judge. We believe everyone can do it, and are true to the lifestyle we promote, so we believe in our message.
A lot of people may be uncomfortable with a typical gym environment, so we do it differently! We offer phone, video call or in person appointments wherever is comfortable, just to chat, get to know people, learn what they are looking for, what motivates them, and how we can help.
We share valuable information that could help people find their answers or do things on their own, investing time on consultations, trials and giving all the support needed to get started and build confidence.
Our team is passionate about creating a positive environment, and always able to deliver motivational sessions that really promote a change, while clients enjoy every step of their journey, feeling accomplished after every class.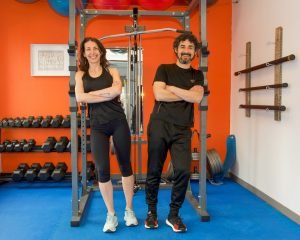 Owned by Ally Santos and Daniel Burguez, both new Canadians recently established in New Brunswick.
With long professional careers in IT and Engineering, they decided to start a new venture to follow their passion for wellness through an active and meaningful life, and natural and balanced nutrition.
They decided to leave their careers and pursue the business full-time, inspired by their own health journeys over the last decade. A decision to change their diets and lifestyle made them feel much better. They now want to share their learnings with people; that other lifestyles are possible, improving both physical and mental health.