This fresh, easy taco salad recipe makes a filling lunch or fun dinner. Prep components ahead of time and store them separately for quick assembly! Gluten-free and vegan.
Prep Time: 15 mins
Cook Time: 10 mins
Total Time: 25 mins
Serves 2 to 3
Ingredients
2 corn tortillas, sliced into strips
Extra-virgin olive oil, for drizzling
1 medium head romaine lettuce, chopped
1 cup shredded red cabbage
½ cup cooked black beans, drained and rinsed
2 red radishes, thinly sliced
½ cup sliced cherry tomatoes and/or pico de gallo
1 avocado, sliced
Jalapeno slices, optional
Cilantro Lime Dressing, the creamy avocado variation
Sea salt
Lime wedges, for serving
Shiitake Taco "Meat"
1 tablespoon extra-virgin olive oil
8 ounces shiitake mushrooms, stemmed and diced
1 cup crushed walnuts
1 tablespoon tamari
1 teaspoon chili powder
½ teaspoon balsamic vinegar
Sea salt and freshly ground black pepper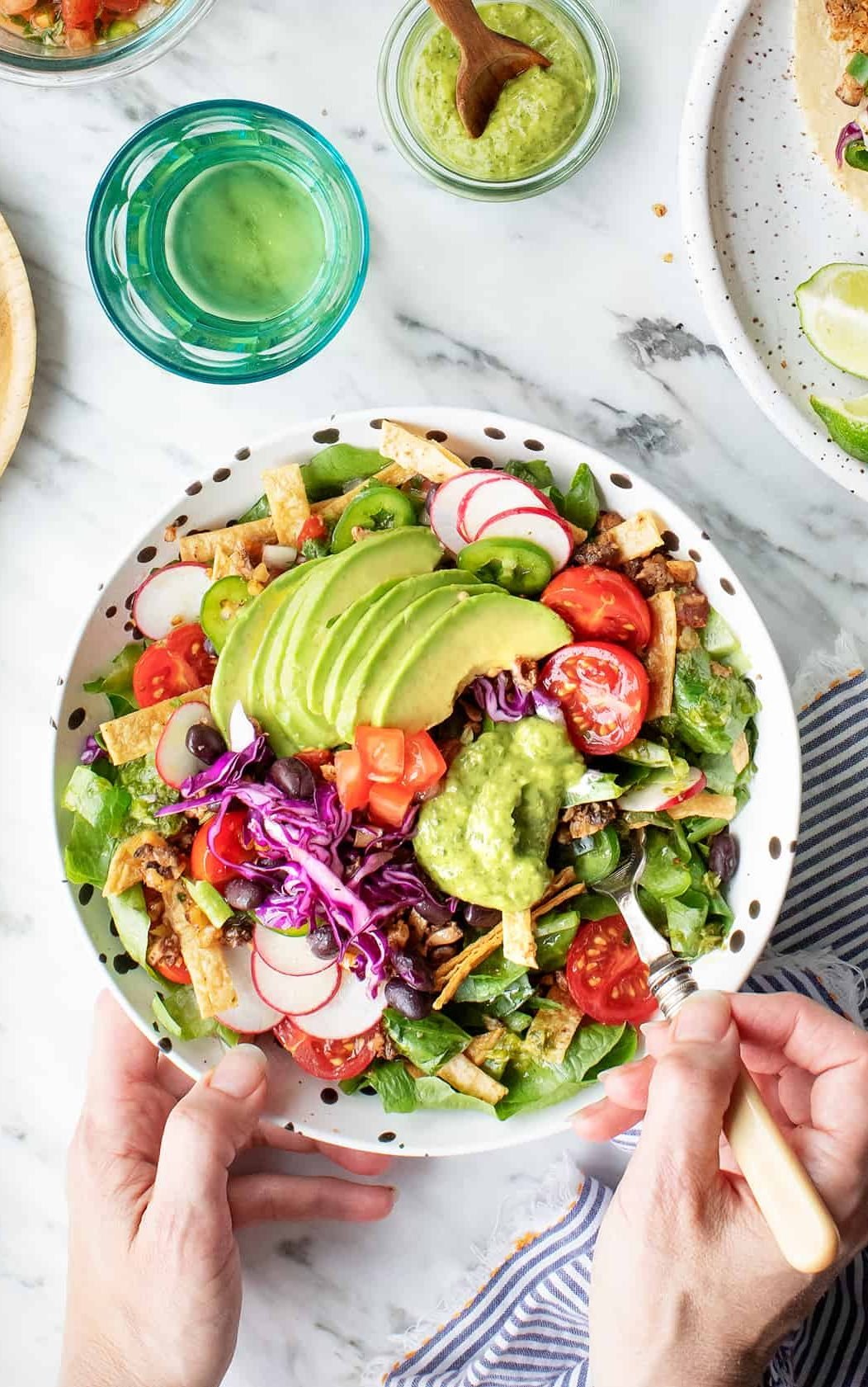 Instructions
Preheat the oven to 400°F and line a baking sheet with parchment paper. Toss the tortilla strips with a tiny bit of olive oil and a few pinches of salt. Spread onto the sheet and bake for 10 to 14 minutes or until crispy.
Make the Shiitake Taco "Meat": In a medium skillet, heat the olive oil over medium heat. Add the mushrooms and cook, stirring only occasionally, until they begin to brown and soften, 3 to 4 minutes. Stir in the walnuts and lightly toast for 1 to 2 minutes. Stir in the tamari and the chili powder. Add the balsamic vinegar and stir again. Remove from the heat and season with salt and pepper to taste.
Assemble the salad with the romaine lettuce, cabbage, black beans, taco meat, radishes, tomatoes, avocado, jalapenos, if using, and generous dollops of cilantro lime avocado dressing. Drizzle with olive oil and sprinkle with sea salt. Serve with lime wedges and extra dressing on the side.
Recipe by Love and Lemons